Travel Agency In Bangladesh, Dhaka: Ultimate Best Travel Agency List (Bangla)
Are there any of us that don't like to go around?
Such people do not seem to be available.
Someone likes to travel around the country while others like to travel around the country.
There are currently several travel agencies for travel.
Today we will discuss the top travel agencies of Bangladesh.
But first of all, it's good to say, this article is written with the help of Google.
Not from my own experience.
So in reality I do not know what the service of the agencies will be like.
Make your own decision.
Travel Agency List (bangladesh 2023) (Acording To Google Rank)
10.

Travelsmart.com

.bd




09.

Flamingotoursbd

.com




08.

Prottashabd.com




07.

DhakaTravels




06.

Greenmaskbd.com




05.

Discoverbangla.

com




04.

https: //

www.amazingtours

bd.com/




03.

https: //

www.arnimholiday

s.com/




02

.https: //

dragonholidaysbd

.com /




01

.https: //

www.obokash.com/
TravelSmart Ltd
Their services:
Air ticket reservations.

At the international and national level, they work on air ticket reservations.

In-house ticketing.

Pre-booked travel.

Hotel reservations.

Airport Welcome Service.

VIP service.

Private Security Service.

Visa and Immigration Service.

Car rental

Travel Agency In Bangladesh
TravelSmart Ltd.
Bashati Avenue, Flat: A2, House: 10, Road: 53, Gulshan: 2, Dhaka: 1212, Bangladesh.
Phone: + 880-02-9892596, 9848618, 8831932, 8837818
Cell: +88 01711520080
Email: travelsmart@innovanest.com, info@travelsmart.com.bd
For VISA Facilitation service, please visit:
www.innovanest.com
Online Travel Agency Bangladesh
Travel Agency Tea located in Chittagong with over 5 years experience.
Excellent trip planning is one of their features.
They have a separate team for the tour plan that will help organize your tour.
Hidden Charge Free (their claim) dedicated to the service and clients.
Flamingotoursbd's service list.
Different domestic and overseas flight ticket services

Visa & Passport Services.

Various tour packages at affordable price.

You do not have to worry about cars for your journey.
Hotel Booking Service.
Travel Agency In Dhaka
Address: 6th Floor, Akhtaruzzaman Center
Agrabad, Chittagong, Bangladesh
Telephones: +8803171105
E-mail: info@flamingotoursbd.com
Skype: flamingotoursbd
Let's talk about their tour packages.
They serve Europe, including Bali, India, Egypt, Bangkok Singapore, Morocco.
Contact info
Prottasha, House - 8 / A, Road-7 / D, Sector-9,
Dhaka-Mymenshingh Highway,
Uttara, Dhaka 1230, Bangladesh
PH: 0088- 02-58955939
Cell: 0088- 01942230681
+880 1942230682.
+880 1670024762
Dhaka Travels is at number 5 on our list.
Like other travel agencies, they also offer Hajj and Umrah packages.
Air ticket reservations.

At the international and national level, they work on air ticket reservations.

Hotel reservations.

Visa and Immigration Service.

Hajj and Umrah
06. Greenmaskbd.com
Worldwide Hotel Reservatio

n

Domestic and International Air Ticket Booking

Tour Packages from Bangladesh
Packages:
- Singapore: 1 day 2 nights.

- Indonesia:

3 days 2 nights.

- Malaysia:

7 days and 2 nights.

-

Maldives:

5 days 2 nights.

Their travel packages are longer than other agencies.

Moreover, the tours in Kashmir, Vietnam, Uzbekistan have set them apart from others.

D

iscoverbangla

's services are more visible as they are more.

Here you will find

Luxury Cruise Package.

Corporate Office




Suite # B-7, House # 11, Road # 17




Block # D, Banani, Dhaka-1213

+8801713444361 (Mr. Masum)

+8801713444369 (Mr. Alin)

+8801708150278 (Mr. Ershad)

discoverytour @ g

mail.com




Uttara Office




HM Plaza, Suite # 1 (12th Floor),




House # 34, Road # 2, Sector # 3,




Uttara C / A, Dhaka-1230

+8801713 444358 (Mr. Kazi Mamun)

+8801730 097182 (Mr. Humayun)

discovery.uttar

a@gmail.com

Top 10 Tourist Place In Bangladesh
05.

Chittagong Ship Breaking Yard
Online Travel Agency List In Bangladesh
04.
https://www.amazingtoursbd.com/
https://www.arnimholidays.com/
https://dragonholidaysbd.com/
https://www.obokash.com/
Ultimate Guide for Best Travel Agency List in Bangladesh
Travel agency in

motijheel

Travel agency in gulshan dhaka

travel agency in dhanmondi

indian travel agency in bangladesh

best travel agency in uttara dhaka
Bangladeshi Kashmir
The blue color is blue.
It's like being lost in the realm of the Nile.
Yes talking about Niladri, wondering what it is again?
This heavenly beauty-filled place is not in Kashmir but in our country!
Are you surprised?
Do not mistake Kashmir for the pictures, everyone knows it as Niladri.
Come back to Sunamganj to feel immersed in its beauty.
Losing its own identity, the stone quarries of the Takerghat Limestone Mine Project are now known to tourists as Niladri Lake.
Niladri Lake is located at Tareghat in the North Sripur Union of the upazila bordering Meghalaya, India.
Every day hundreds of tourists gather to enjoy the beauty of the lake.
Many went to see the tanguer haor of Sunamganj.
But there are so many beautiful and beautiful places around it that can instantly overwhelm the mind of any tourist!
One such place is the abandoned mining limestone lake of Takerghat Limestone.
Locals know it as Blue Lake.
Its name is as beautiful as its beautiful appearance.
If you do not see with your own eyes, you can not believe that the color of water is so blue and a magical form of nature.
The middle borders of the hills and the lower hills of Opar are the last frontier of Bangladesh.
The big high hill is surrounded by a wire fence that borders.
The lake was once a supply store of raw material limestone in the limestone factory, which is now extinct.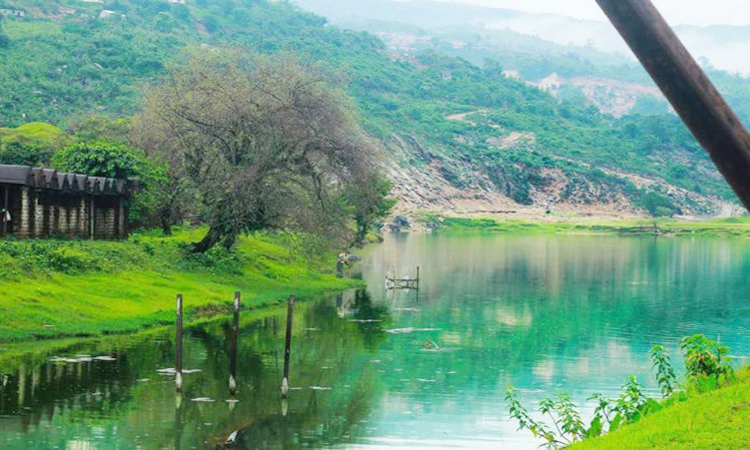 There are several rest houses and guest houses in Borachhara market.
There you can stay for one night at Tk.
The Barikka hillock will be visible on the big market.
If you want to walk from Takerghat to Bharachhara Bazaar, it would be nice to walk along the main road.
Also, there is a limestone factory closed on the lake side.
The border area is therefore to be careful.
It's best to try not to get too close to the border.
And if you do not know swimming, it is better not to swim in the lake.
Don't go too far down the drain.
Because of this, at one time large quantities of limestone were raised.
The lake is much deeper as a result.